So I finished piecing a quilt from this
Craftsy
class, but I haven't even started quilting it yet. I do have a few finishes to share though.
This is a Moda Bake Shop quilt,
Eli's Wheels Quilt
, that I thought would work well with Fig Tree's Tapestry Line, mixed with a darker fabric...
I love the pattern and the fabric line, but I find the darker fabric too distracting. Either way, it's a finish and the colors do go well in my living room.
This next one, was one of those times when you just want instant gratification. I had purchased a fat quarter bundle of
http://www.rileyblakedesigns.com/shop/category/riley-blake-designs/just-arrived/bake-sale-cottons/
And had a bit of fun with Lori's Pattern....
The next two finishes are the cover quilt from this book: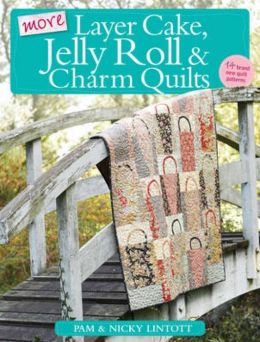 I used a fat eighth bundle of
instead of a layer cake and I added a border with the off-cuts. Two lap quilts and I really enjoyed making these. The pattern was simple and I love the chosen fabric.
T
This is a paper pieced pattern from
Red Pepper Quilts
. I had such trouble with the paper piecing. So I went to
YouTube
and found this tutorial by The Crafty Gemini. Very helpful! As you can see, the tutorial helped me figure it out!
Maybe I'll try building a larger quilt with this as the center...For now, I'm satisfied with just a pillow.
And then....
These are table mats, playing with scraps. The little stars above and the the little blocks are 4" finished.
What a fun way to use up scraps!
Thanks for visiting.
Cheers!