Bits and Pieces
A blog about quilting and life.
Friday, August 16, 2013
I'm a winner!
From Me and My Sister Designs
I'm so excited! I can't wait for this book to arrive!
Cheers!
Thursday, July 18, 2013
In between the frustration of those teeny, tiny blocks, I'm working on Dwell, from
Camille'
s new book. I'm making this quilt Queen size so I've multiplied the number of blocks I'm making. For this house, the pattern calls for a 6" pinwheel in the center - but I made a different 6" block for each house I built.
This one is my Favorite!
Cheers!
So I finished piecing a quilt from this
Craftsy
class, but I haven't even started quilting it yet. I do have a few finishes to share though.
This is a Moda Bake Shop quilt,
Eli's Wheels Quilt
, that I thought would work well with Fig Tree's Tapestry Line, mixed with a darker fabric...
I love the pattern and the fabric line, but I find the darker fabric too distracting. Either way, it's a finish and the colors do go well in my living room.
This next one, was one of those times when you just want instant gratification. I had purchased a fat quarter bundle of
http://www.rileyblakedesigns.com/shop/category/riley-blake-designs/just-arrived/bake-sale-cottons/
And had a bit of fun with Lori's Pattern....
The next two finishes are the cover quilt from this book: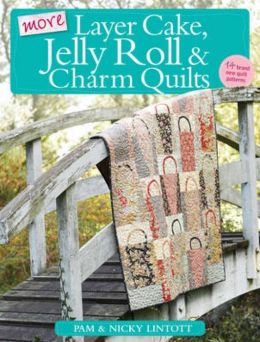 I used a fat eighth bundle of
instead of a layer cake and I added a border with the off-cuts. Two lap quilts and I really enjoyed making these. The pattern was simple and I love the chosen fabric.
T
This is a paper pieced pattern from
Red Pepper Quilts
. I had such trouble with the paper piecing. So I went to
YouTube
and found this tutorial by The Crafty Gemini. Very helpful! As you can see, the tutorial helped me figure it out!
Maybe I'll try building a larger quilt with this as the center...For now, I'm satisfied with just a pillow.
And then....
These are table mats, playing with scraps. The little stars above and the the little blocks are 4" finished.
What a fun way to use up scraps!
Thanks for visiting.
Cheers!
#1
#2
#3
#4
Ugh! These blocks finish at 2 inches and as you can see by my first four attempts, it was not as simple as just piecing together! For attempt #1, I forgot to trim to size - but it didn't really matter - just look at those HST and I put the basket together wrong! Yuk! Attempt 2, Ditto! I did not learn from my mistake. Attempt 3, my machine was hungry - and started to eat the fabric - but no matter I still didn't get the HST right. At last I pieced the basket correctly, if not accurately. And Attempt 4 - okay, marginally better - but again, accuracy sucks!
Finally! Now we're getting somewhere!
Attempt #5
Attempt #6
Whoops!
Did anyone else have as much trouble piecing these teeny, tiny blocks?
Tuesday, July 9, 2013
Craftsy!
By now, I'm sure many of you have jumped on the
Craftsy
train. I signed up for a few of the free classes to give it a try. This is the first class that I purchased.
This class advertises "good for beginner's" (although I wouldn't exactly call myself a beginner) and while that is definitely true, I learned some time saving techniques. The class covers more than one quilting project so you have the opportunity to try out the techniques on various projects. All instructions, materials, etc. are downloadable too. The class also encourages your creativity by giving examples of some of the blocks you can make using just the half-square triangle. And you can go at your own pace, rewind to review, and even make notes.
And of course, Camille is just adorable!
This class earns a
for Beginning Quilters with tips and techniques for the more advanced quilter.